Prison Dog is an rare figurine part of the Pirates of the Caribbean.
Appearance
Black and white dog with a key in its mouth.
Behavior During Gameplay
Normal
How to Unlock
Prison Dog can be unlocked by finding and touching him while playing as Pintel. After doing that and finishing your round, Prison Dog will be unlocked.
Gallery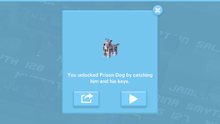 Ad blocker interference detected!
Wikia is a free-to-use site that makes money from advertising. We have a modified experience for viewers using ad blockers

Wikia is not accessible if you've made further modifications. Remove the custom ad blocker rule(s) and the page will load as expected.