Roz is an Epic figure, part of the Monsters, Inc. world
Appearance
Roz has grey hair, is wearing a pink shirt, and is holding a grey clipboard. Her skin is tanish, she has pink lips, and is wearing black glasses.
Description
Always tearing up the paperwork
Behavior
She creates a slime trail behind her when she slides across the world. Every now and then paper work will go flying.
Gallery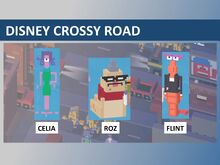 Ad blocker interference detected!
Wikia is a free-to-use site that makes money from advertising. We have a modified experience for viewers using ad blockers

Wikia is not accessible if you've made further modifications. Remove the custom ad blocker rule(s) and the page will load as expected.