I'll remove the Challenges section to make it easier for me to finish the episode.
Story
Day 19
With Henry Turner's elimination, Edna tries to help Stitch in collecting the lost resources. Joy wanted to help too, and both allowed her to help. Suddenly, Honey Lemon started to hinder her team, by "accidentally" tripping on their campsites and destroying everything. Everyone at camp chose to eliminate her next. Mickey and Minnie called everyone to the Challenge Corner to a reward challenge. It was a blind race, that everyone can't see on the race. Present won the final reward challenge, with the next one being a CrosSurvivor auction.
Day 20
The immunity challenge will begin. It was the elimination roulette. Present won, finally ending Superheroes' winning streak. After losing for the first time, they will wait for the next Tribal Council.
Day 21
At Tribal Council, Superheroes will vote.
| Voted For | Votes Against |
| --- | --- |
| Honey Lemon | Mr. Incredible, Mrs. Incredible, Dash, Violet, Frozone |
| Dash | Hiro, Honey Lemon |
Honey Lemon was voted off. The teams were merged into one, which was called "Classics". Honey Lemon wasn't sent to the shelter, but became a jury member. Everyone went back to their campsites after getting their buffs.
Still in the Running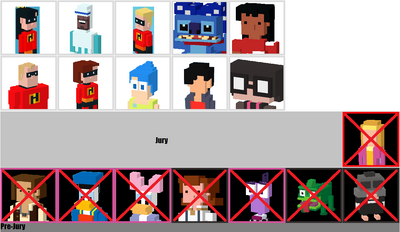 Ad blocker interference detected!
Wikia is a free-to-use site that makes money from advertising. We have a modified experience for viewers using ad blockers

Wikia is not accessible if you've made further modifications. Remove the custom ad blocker rule(s) and the page will load as expected.