Thank you to Bestfriendswheneverfan20067 for posting the image (NEWART.jpg).
I decided to observe the new Disney Crossy Road artwork for new figures.
My Findings:
- 7 Characters
- 2 Unsure Characters
My Observations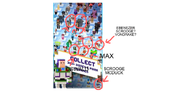 I was able to confirm that Scrooge McDuck, Oswald, and Max (Goofy's Son) were in the image. Three of the characters seemed new, but I don't know who they are exactly. They may be from a Disney movie I haven't watched. The character with the bike wheel may be from Tron, so we might be getting a Tron world. If it's not from Tron, please correct me. If you know who the other two might be, please inform me as well.
I spotted two characters at the top that I didn't know. It seemed to have a dark body and a red cape. It could have been Li Shang, but it seemed to be a different model.
With one character, I couldn't determine if it was the Mickey's Christmas Carol version of Scrooge or Doctor VonDrake.
Ad blocker interference detected!
Wikia is a free-to-use site that makes money from advertising. We have a modified experience for viewers using ad blockers

Wikia is not accessible if you've made further modifications. Remove the custom ad blocker rule(s) and the page will load as expected.